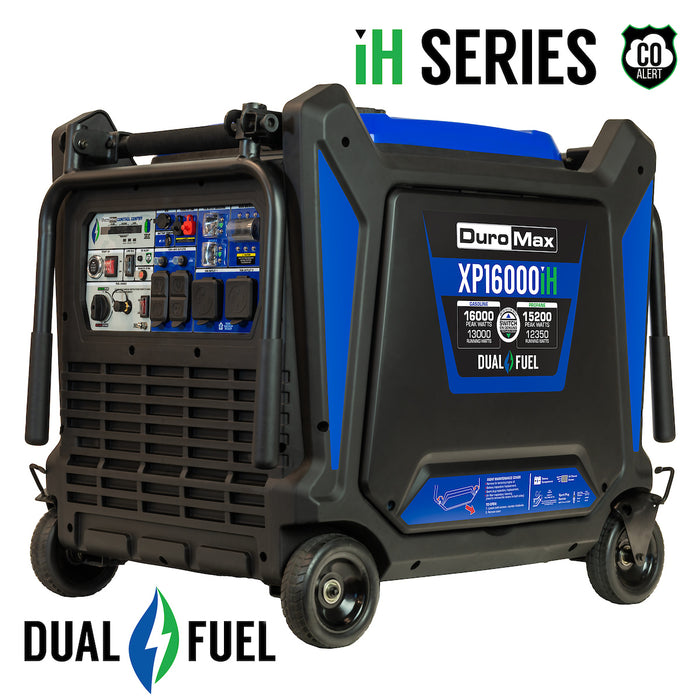 DuroMax XP16000iH 16,000 Watt Dual Fuel Portable Inverter Generator w/ CO Alert
---
Condition: New
SKU: XP16000iH
---
The largest Dual Fuel digital inverter on the market, the XP16000iH is excellent for emergency home backup or power on the jobsite. Use clean power to operate your television, laptops, and other sensitive electronics. This inverter comes with a digital control center so you can monitor power output, load level, and running hours at a glance. Double your power by connecting a second XP16000iH with a parallel kit (sold separately).
---
Key Features
RUNS ON GAS OR PROPANE

Runs on gasoline or liquid propane, offering the freedom and flexibility of fuel choice

CLEAN POWER

Safely operate digital electronics including televisions and computers.

DIGITAL CONTROL CENTER

Track voltage output, gasoline level, and maintenance hours.

DOUBLE YOUR POWER

Connect two X16000iH inverters together to double your power output. (Sold separately.)
---
Features
Power on the Go – With 16,000 peak watts and 13,000 running watts, this generator is perfect for emergency home power, jobsite use, or camping with your RV.
Dual Fuel Technology – This generator runs on gasoline or propane giving you the freedom and flexibility of fuel choice.
CO Alert – Automatically turns off the generator when an unsafe level of carbon monoxide is detected.
Inverter Technology – Provides clean, stable power for sensitive electronics including televisions and computers.
Remote Start – Start the generator conveniently with the remote control.
Automatic Transfer Switch Ready – Equipped with an ATS outlet making it easy to connect to a compatible Automatic Transfer Switch
Battery Tender – Keep your generator's battery charged and ready to start at a moment's notice.
Low Oil Shutoff – Protects your investment by automatically shutting the generator off when it senses that the oil is low.
Digital Control Center – The Digital Control Center features an LCD display showing hours run, voltage output, and load level.
Parallel Capability – Connect two XP16000iH inverters together to double your power to 18,000 peak watts and 15,200 running watts. (Parallel kit sold separately.)
Complies with Emissions Standards – All DuroMax generators are both approved by the EPA (Environmental Protection Agency) and CARB (California Air Resources Board) and follow strict guidelines to ensure our generators are as environmentally friendly as possible.
---
Only as Strong as Its Core.
The DuroMax XP16000iH Dual Fuel Digital Inverter Hybrid Portable Generator has a Cast-Ironed Sleeved, 744cc Engine delivering a peak of 16,000 surge watts / 13,000 Constant. This is a sufficient amount of power that can handle high requirement loads as well as multiple small load appliances simultaneously. All DuroMax Generators are user-friendly and are ready to use out of the box within minutes. Simply remove all packaging, assemble the wheels and handles, add Oil and Gas and it is ready to begin producing power.
Safe & Reliable Operation for Any User.
Designed for Safe and Easy Operation, the XP16000iH features a user-friendly push button with a remote that's as simple as starting your car. Solid-Fill tires are also standard, they will never run flat, and high leverage handles that make it easy to transport over every terrain. The attached oversized noise reducing Muffler has a built-in Spark Arrestor for safe use in mandated camping areas and jobsites.
Easy Out of Box Operation & Peace of Mind.
All DuroMax Generators carry a 3 Year Residential Factory Warranty and 1 Year Commercial Factory Warranty so if for any reason your generator gives you problems simply let us know and we will do our best to make it right. All DuroMax Generators are ready to use out of the box within minutes. Simply remove all packaging, add Oil and Gas and it is ready to begin producing power.
---
What's in The Box
DuroMax XP16000iH Dual Fuel Inverter Generator
Oil Funnel
Spark Plug Wrench
Propane Regulator
Remote Control
Battery Tender
Tool Set
Owner's Manual
Warranty
5-Year Residential Limited Factory Warranty.
1-Year Commercial Limited Factory Warranty.
Specifications
SKU
XP16000iH
Brand
DuroMax Power Equipmen
Gasoline
Peak Wattage
16,000 Watts
Running Wattage
13,000 Watts
Running Amperage at 120V
108.33 Amps
Running Amperage at 240V
54.17 Amps
Runtime at 25% Load
18.2 hrs
Runtime at 50% Load
10.5 hrs
Propane
Peak Wattage
15,200 Watts
Running Wattage
12,350 Watts
Running Amperage at 120V
102.92 Amps
Running Amperage at 240V
51.46 Amps
Runtime at 25% load on 40/60/100 lb Tank
11 / 16.5 / 27.75 hrs
Runtime at 50% load on 40/60/100 lb Tank
6 / 9.4 / 14.5 hrs
Engine and Emission Specification
Engine Type
4-Stroke
Valve Type
OHV
Engine Cooling Type
Forced Air
Engine Size
744cc
Engine Speed
Variable Speed (Dependent on load)
Starting Type
Push Button
Electric Start
Yes
Recoil Start
No
Idle Control
Demand Based Variable Idle
Fuel Delivery System
Carburetor
Fuel Types
Gasoline and Propane
Oil Cooling Type
Pressure and Splash
Recommended Oil
10W-30
Recommended Oil Types
Blended, Conventional, or Synthetic
Oil Capacity
50.7 fluid oz
Suggested Propane Tank Size
60 lbs. minimum
Automatic Low Oil Shutdown
Yes
Cast Iron Sleeve
Yes
Bearing Type
6003 Sliding Bearing
CO Sensor Shutdown
Yes
EPA Certified
Yes
CARB Certified
No - Cannot Ship to California
49 State Emissions
Yes
Panel Specification
GFCI
Yes
Battery Switch
Yes
Battery Tender Port
Yes
Battery Tender
Yes
Volt Meter
Digital
Hour Meter
Yes
5-20R
4
L14-50R
2
Generator Specification
Voltage
120/240 Volts
Frequency
60 Hertz
GFCI Outlets
Yes
Propane Hose & Regulator
Included
Winding Material
100% Copper Windings
Automatic Voltage Regulator
Yes
Battery Type
12V SLA
Battery Included
Yes
RV Ready
Yes
Home Backup Ready
Yes
Fuel Tank Capacity Gasoline
10.5 Gallons
Fuel Gauge
Yes
All Metal Construction
Yes
Product Dimensions
38.3"-Long x 30.8"-Wide x 34.4"-High
Product Dry Weight
368-lbs
Volume (db)
66.9 dB
UPC
811640016883
Warranty
5 Year
Wheel & Handle Kit
Included
Wheel Type
Metal Hub
Wheel Diameter
7"
Package Dimensions
42"-Long x 34"-Wide x 36"-High
Pallet Count
1
STILL NOT SOLD ON US? LET US CHANGE THAT!
GIVE US A CALL:
1-800-629-4329
---
We Have Product Experts Available to Answer All of Your Questions.
We Offer Free Shipping on Orders Over $199. We Also Ship World Wide.
We Are A Factory Authorized Retailer Offering Full Manufacturers Warranty.
We Offer Multiple Secure Payment Options. Affirm Financing is Also Available.
---
We strive to provide the best customer service and product support for our customers, so you can feel confident that you are purchasing the product that best suits your needs. We have Product Experts available to answer any questions and concerns you may have, and we will work with you to ensure that your order is correct every time. Our family-run business has always put our customers first, so when you buy from us you're family.