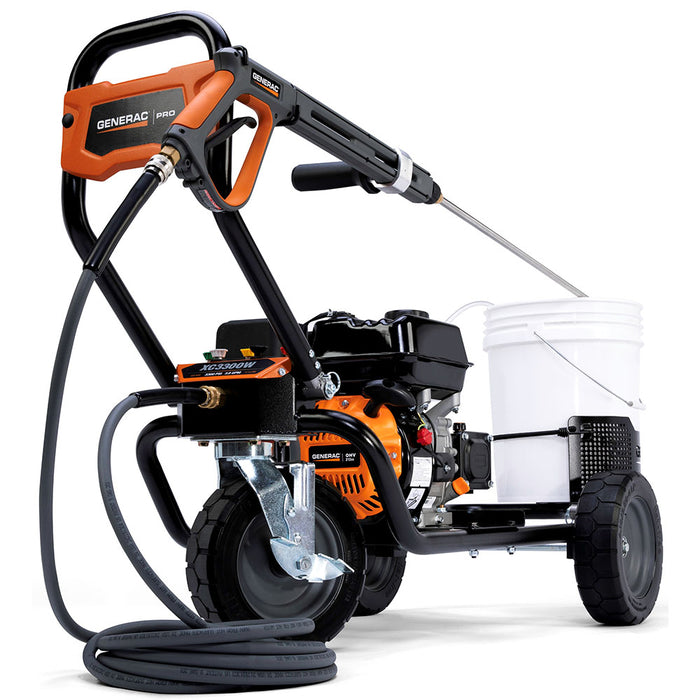 Generac 8870 XC3300W 3300 PSI Gas Powered Pressure Washer w/ G-Force Engine
---
Condition: New
SKU: GNC-8870
---
Features
Rugged Frame: 1.25" welded steel tube with 12 gauge formed steel baseplate
Oversized Never Flat Wheels: Easily handle rugged jobsite terrain
Ergonomic Spray Gun: Quick change connections, stabilizing side handle, molded grip and easier-to-pull trigger for comfort during prolong use
Pressure Control Valve: For adjustable cleaning power
25' Flex Hose: Durable, non-marring hose will not leave scuff marks
What's in The Box
Commercial Power Washers 3300 PSI- 8870
0, 15, 25, 40 degree, Soap, Nozzles
Owners Manual
Warranty
Residential 3 Year Limited Factory Warranty
30 Day Satisfaction Guaranteed
Specifications
SKU
8870
Brand
Generac
Max Outlet Pressure
3300 PSI
Max Flow Rate
3.0 GPM
Engine
Choke
Manual
Decompression
212 cc
Engine Shaft Diameter
4 Cycle / OHV
Lubrication
Splash
Oil
10W-30
Pressure Washer Pump
Pump Type
Polyurethane, Cloth Braided
Fuel Capacity
.8 Gallons
Fuel Shutoff Valve
Yes
Spray Gun
Spray Gun Connection
Quick Connect
Spray Gun Grade
Professional
Spray Tips
5 per unit
Lance Length
29 in
Pressure Washer Hose Wand Nozzle
Hose Diameter
.3125 in
Hose Length
25 ft
Hose Material
Polyurethane, cloth braided
Dimensions
Length 37.9 in. Width 23.3 in. Height 27.6 in. Weight 104 lbs.
STILL NOT SOLD ON US? LET US CHANGE THAT!
GIVE US A CALL:
1-800-629-4329
---
We Have Product Experts Available to Answer All of Your Questions.
We Offer Free Shipping on Orders Over $199. We Also Ship World Wide.
We Are A Factory Authorized Retailer Offering Full Manufacturers Warranty.
We Offer Multiple Secure Payment Options. Affirm Financing is Also Available.
---
We strive to provide the best customer service and product support for our customers, so you can feel confident that you are purchasing the product that best suits your needs. We have Product Experts available to answer any questions and concerns you may have, and we will work with you to ensure that your order is correct every time. Our family-run business has always put our customers first, so when you buy from us you're family.