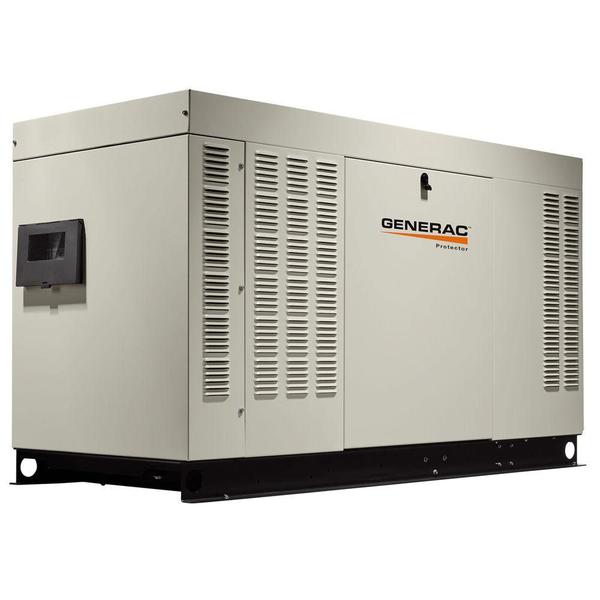 Generac RG06024ANAX 60kW 120/240 Volt Natural Gas Automatic Standby Generator
---
Condition: New
SKU: GNC-RG06024ANAX
---
Product Downloads
Features
Natural Gas Emergency Standby Power Generator
For commercial buildings w/ 120/240V service
Low-speed exercise mode for quieter weekly tests; 65 dB @ 23'
Two-Line LCD Display provides service maintenance intervals
Powerful Generac 2.4L 4-cylinder liquid-cooled engine
Sound Attenuated, Acoustically Designed Aluminum Enclosure
Corrosion-resistant material ideal for salty air conditions
Lockable, external viewing window for quick status check
Automatic Shutdown Safety Feature
High coolant temp, low coolant, low oil pressure and overspeed
Mobile Link Compatible (Sold Separately)
Easily check generator status via computer, tablet or smartphone
Transfer Switch (Sold Separately)
Customize your system based on your actual application
UL 2200 Listed For Safety Certified Power Ratings
What's in The Box
60kW Automatic Protector Standby Generator
Owners Manual
Warranty
5-Year Limited Factory Warranty
30 Day Satisfaction Guaranteed
Specifications
Sku
RG06024ANAX
Brand
Generac
Rated Wattage
60,000 Watts
Engine Displacement
2,400cc
Engine Type
Generac 2.4L 4-Cylinder
Starting System
12V Auto Start
Engine speed
3,600 Rpm
Low Oil Alert/Shutdown
Yes
Voltage
120/240V
Phase
Single
Frequency
60 Hz
NG Fuel Consumption
at 50-Percent Load
483 ft3/hr
NG Fuel Consumption
at 100-Percent Load
862 ft3/hr
Rated Amperage
250A
Decibel Rating at 7m
72 dBA
Enclosure
Aluminum
Cooling System
Liquid Cooled
UL Listed
Yes
Length
76.8 in.
Width
35 in.
Height
46.1 in.
Product Weight
1,500 lbs.
GENERAC GUARDIAN SERIES 60KW GENERATOR FEATURES AND BENEFITS
This generator provides essential circuit power protection for your home during a power outage, ensuring that essential appliances maintain power. This standby generator is automatic and offers protection year-round, for less than the cost of central air conditioning.
Every Guardian Series home standby generator comes with Mobile Link™ Remote Monitoring. Remote Monitoring is FREE, and allows you to monitor the status of your generator from anywhere in the world. Use a smartphone, PC, or tablet to access generator information, such as the current operating status and maintenance alerts. By connecting your account you have access to authorized service dealers for fast, friendly, and proactive service.
Generac generators are ideal for weathering storms and power outages. Their automatic backup power gives you piece of mind that your home and appliances are protected.
Generac generators and engines are designed, engineered and assembled in the USA using domestic and foreign parts.
The Generac G-Force Engine is built to handle the stressors of generator use. This results in power that's more reliable and requires less routine maintenance than competitor engines. Generac's new G-Force engine is purpose built and pressure-lubricated. It features hydraulic lifters, which improve engine performance and extending the life of the product. (Hydraulic lifters only available on the 13 & 16 kW.)
STILL NOT SOLD ON US? LET US CHANGE THAT!
GIVE US A CALL:
1-800-629-4329
---
We Have Product Experts Available to Answer All of Your Questions.
We Offer Free Shipping on Orders Over $199. We Also Ship World Wide.
We Are A Factory Authorized Retailer Offering Full Manufacturers Warranty.
We Offer Multiple Secure Payment Options. Affirm Financing is Also Available.
---
We strive to provide the best customer service and product support for our customers, so you can feel confident that you are purchasing the product that best suits your needs. We have Product Experts available to answer any questions and concerns you may have, and we will work with you to ensure that your order is correct every time. Our family-run business has always put our customers first, so when you buy from us you're family.