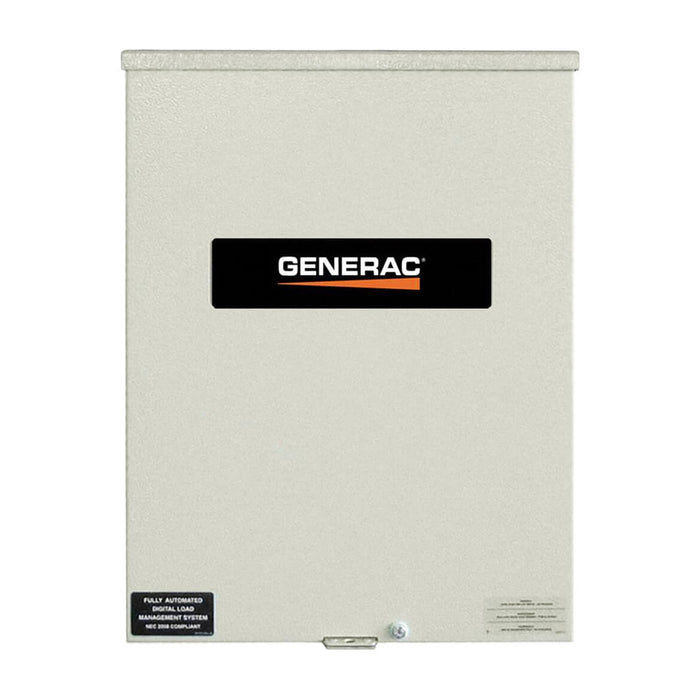 Generac RXSW200A3 200-Amp 240-Volt Single-Phase Automatic Transfer Switch
---
Condition: New
SKU: GNC-RXSW200A3
---
Features
Through the use of digital power technology, Generac's singe-phase service rated transfer switch has the ability to manage 4 individual HVAC loads with no additional hardware.
Designed for use with single-phase generators that utilize an Evolution or Nexus Controller.
Aluminum NEMA/UL Type 3R (indoor-outdoor) enclosure with electrostatically applied and baked power paint provides additional corrosion protection.
Simplify installation with a board that combines load management and transfer switch hardware.
Gain even more flexibility when used in tandem with Smart Management Modules.
Decreases transfer switch complexity.
The Smart A/C Module manages the loads by shedding the connected loads in the event of a drop in generator frequency (overload).
Smaller fuses integrated into the control board.
What's in The Box
Generac 120/240-Volt 200-Amp NEMA 3R Automatic Smart Transfer Switch - RXSW200A3
Owner's Manual
Warranty
5-Year Limited Factory Warranty
30 Day Satisfaction Guaranteed
Specifications
| | |
| --- | --- |
| Sku | RXSW200A3 |
| Brand | Generac |
| Voltage | 120/240V |
| Phase | Single-Phase |
| Frequency | 60 Hertz |
| Rated Amps | 200 Amps |
| Enclosure | NEMA 3R |
| Transfer Switch Style | Service Disconnect |
| Max Utility Input | 200 Amps |
| Max Generator Input | 200 Amps |
| Maximum Wattage | 48000 Watts |
| Product Dimensions (LxWxH)(In.) | 6.3 x 13.5 x 30 In. |
| Shiping Weight (lbs) | 39 lbs |
STILL NOT SOLD ON US? LET US CHANGE THAT!
GIVE US A CALL:
1-800-629-4329
---
We Have Product Experts Available to Answer All of Your Questions.
We Offer Free Shipping on Orders Over $199. We Also Ship World Wide.
We Are A Factory Authorized Retailer Offering Full Manufacturers Warranty.
We Offer Multiple Secure Payment Options. Affirm Financing is Also Available.
---
We strive to provide the best customer service and product support for our customers, so you can feel confident that you are purchasing the product that best suits your needs. We have Product Experts available to answer any questions and concerns you may have, and we will work with you to ensure that your order is correct every time. Our family-run business has always put our customers first, so when you buy from us you're family.