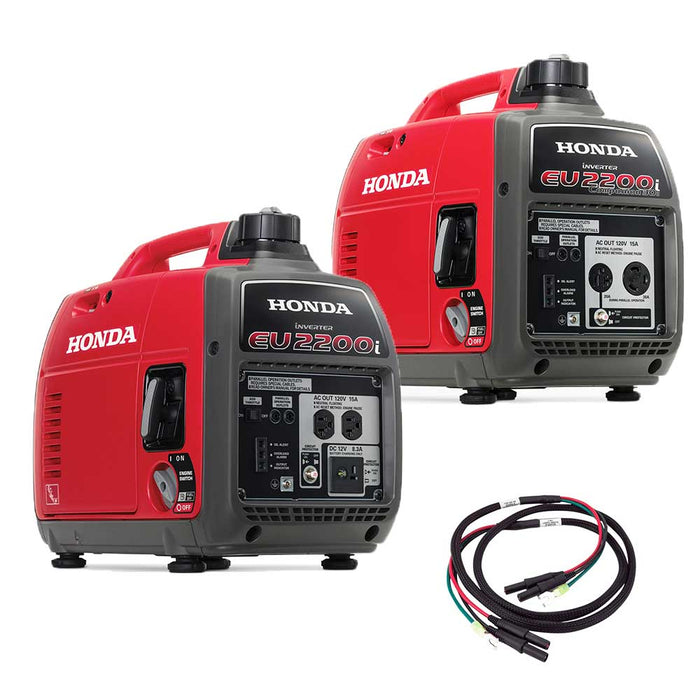 Honda EU2200-KIT EU2200i and EU2200ic 2,200 Watt Companion Inverter Generator Parallel Combo Kit
---
Condition: New
SKU: EU2200-KIT
---
FEATURES AND BENEFITS
PORTABLE
The EU Series are ultra portable with lightweight frames and built in handles
FUEL EFFICIENT
Honda's superior technology, such as Eco Throttle®, results in superior fuel efficiency
DOUBLE POWER
Link two identical generators together in parallel to increase the available wattage
DC CHARGING
All EU units have a DC outlet for use when charging 12V automotive batteries
ULTRA QUIET
The use of inherently quite four-stroke engines makes Honda generators incredibly quite
Honda's EU Series Super Quiet generators represent the leading edge of portable power and tecnhology.
The Super Quiet Series feature a totally enclosed body that results in noticeably quieter performance. Designed for the ultimate quality, portability, and convenience, these models are perfect for any trip to the great outdoors. All of the EU model generators are ultra-quiet, making them ideal for camping, RVing, public events, or any situation where quiet operation is critical.
Honda's advanced inverter technology makes the EU model generators extremely lightweight and portable. EU models also boast great fuel efficiency thanks to the Eco Throttle® system, which enables the engine to run only as fast as needed for any given load.
Features
This popular model can operate a wide variety of appliances, making it perfect for portable use at home, camping, on the jobsite, or much more. Reliable Power is now at your fingertips with Honda's Inverted Generators.
So quiet, your neighbors will thank you. The EU2200i operates at 53 to 59 dBA, which is less noise than a normal conversation. This makes it ideal for camping, supplemental RV power and any other activity that requires quiet operation.
Need more power? Add a second EU2200i for additional power. Two identical models can be paralleled with an optional cable or cord for up to 4400 watts of power, or time consuming applications.
Thanks to our exclusive Eco-Throttle System, the EU2200i offers great fuel efficiency. Runs 4.0 to 9.6 hours on a single tank, depending on the load. This makes it the ideal choice for overnight power, or long time applications.
Honda's inverter technology means stable, clean power in a smaller, lighter package. The precision of Honda's inverter technology ensures our inverter generators produce power that is as reliable as the power you get from your outlets at home.
Weighing less than 47 pounds, the EU2200i is incredibly lightweight and portable, thanks to Honda's inverter technology.
Use the Generator with confidence! You may rest easy knowing your generator is covered from top to bottom for up to 3 full years. Work Hard, and Play even Harder.
Use when charging 12-volt automotive type batteries. (Requires an optional charging cord.)
What's in The Box
(1) Honda EU2200i Generator
(1) Honda EU2200ic Companion Generator
(1) Honda Parallel Cable
Owner's Manual
Warranty
3-Year Limited Factory Warranty
30 Day Satisfaction Guaranteed
MANUALS
Specifications
Sku
EU2200i-KIT
Brand
Honda
Color
Red
Engine Displacement
121cc
Engine Speed
4,000 Rpm - 4,500 Rpm
(W/ Eco Throttle Switch Off)
Unit Peak Wattage
2,200 Watts
Unit Running Wattage
1,800 Watts
Voltage
120v
Amperage
15A - 18.3A
Starting System
Recoil
Fuel Tank Capacity
.95 US Gal / 3.6 L
Engine Oil Capacity
14 oz. / .44 L
Noise Level
62 dB at Rated Load
53 dB at 1/4 Load
Receptacles
20A 120v Duplex
Oil Alert
Yes
Ignition System
Full Transistor
Eco Throttle
Yes
Unit Length
20 in.
Unit Width
11.4 in.
Unit Height
16.7 in.
Shipping Weight
121 lbs.
STILL NOT SOLD ON US? LET US CHANGE THAT!
GIVE US A CALL:
1-800-629-4329
---
We Have Product Experts Available to Answer All of Your Questions.
We Offer Free Shipping on Orders Over $199. We Also Ship World Wide.
We Are A Factory Authorized Retailer Offering Full Manufacturers Warranty.
We Offer Multiple Secure Payment Options. Affirm Financing is Also Available.
---
We strive to provide the best customer service and product support for our customers, so you can feel confident that you are purchasing the product that best suits your needs. We have Product Experts available to answer any questions and concerns you may have, and we will work with you to ensure that your order is correct every time. Our family-run business has always put our customers first, so when you buy from us you're family.