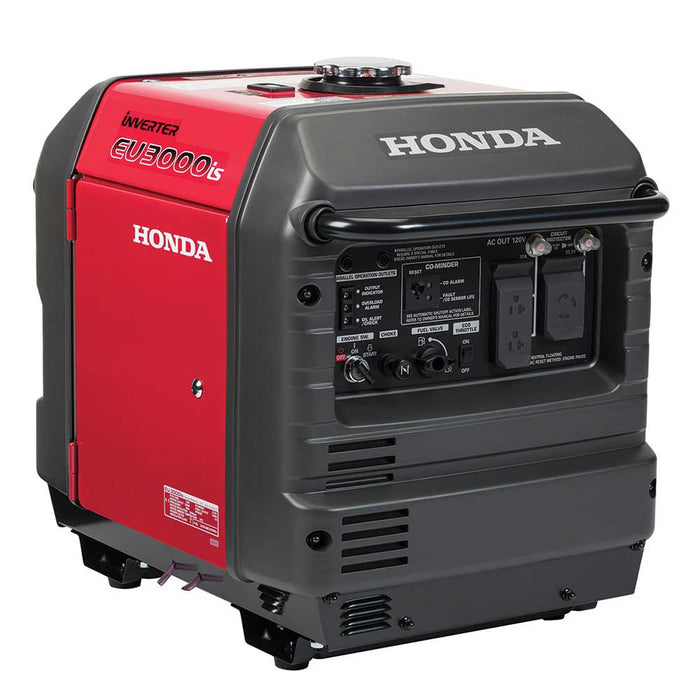 Honda EU3000iS 3,000 Watt Portable Gas Powered Inverter Generator - Reconditioned
---
Condition: Reconditioned
SKU: EU3000IS1AG-R
---
DISCLAIMER:
Our Honda Reconditioned items are products that have been used and may have minor cosmetic blemishes or replaced components. These items have been registered with Honda Power Equipment. Each unit has been thoroughly reviewed by a service technician, tested to 100% functionality and reboxed with all items you would normally receive with the unit such as original accessories and documentation.
FEATURES AND BENEFITS
PORTABLE
The EU Series are ultra portable with lightweight frames and built in handles
FUEL EFFICIENT
Honda's superior technology, such as Eco Throttle®, results in superior fuel efficiency
DOUBLE POWER
Link two identical generators together in parallel to increase the available wattage
DC CHARGING
All EU units have a DC outlet for use when charging 12V automotive batteries
ULTRA QUIET
The use of inherently quite four-stroke engines makes Honda generators incredibly quite
Honda's EU Series Super Quiet generators represent the leading edge of portable power and tecnhology.
The Super Quiet Series feature a totally enclosed body that results in noticeably quieter performance. Designed for the ultimate quality, portability, and convenience, these models are perfect for any trip to the great outdoors. All of the EU model generators are ultra-quiet, making them ideal for camping, RVing, public events, or any situation where quiet operation is critical.
Honda's advanced inverter technology makes the EU model generators extremely lightweight and portable. EU models also boast great fuel efficiency thanks to the Eco Throttle® system, which enables the engine to run only as fast as needed for any given load.
Features
Excellent source of power for RVs, including 13,500 BTU AC units, and basic home backup power
Super quiet - less noise than normal conversation
CO-MINDER continuously monitors carbon monoxide (CO) levels. It automatically shuts down the generator before detected CO levels near the generator become dangerously high.
Convenient electric starting
Fuel efficient - Runs nearly 20 hours on 3.4 gal of fuel
Advanced inverter technology - reliable power for computers and other sensitive equipment
Need more power? Add a second EU3000iS for additional power. Two identical models can be paralleled with an optional cable.
Protected by Oil Alert
USDA-qualified spark arrestor/muffler
Circuit protected
What's in The Box
Honda 3000W Inverter Generator - EU3000IS1AG-R
Owner's Manual
Warranty
For further information on the warranty of this unit please refer to our policy page.
30 Day Satisfaction Guaranteed
MANUALS
Specifications
SKU
EU3000IS1AG-R
Brand
Honda
Engine
Model
Honda GX200
Displacement
196 cc
Compression Ratio
8.5-1
Engine Speed
3500 min
Cooling System
Forced Air
Ignition System
Transistorized Magneto
Engine Oil Capacity
0.58 US qt
Fuel Tank Capacity
3.43 gal
Spark Plug
BPR5ES, W16EPR-U
Generator Specs
AC Output
120V 3000W max (25A) 2800W rated (23.3A)
Receptacles
20A 125V Duplex, 30A 125V Locking Plug
DC Output
12V, 144W (12)
Starting System
Recoil, Electric
Run Time per Tankful
6.9 hr at rated load, 19.6 hr at 1/4 load
Noise Level
57 dB at rated load, 50 dB at 1/4 load
Dimensions
25.9 x 17.6 x 22 in
Weight
130.7 lbs
STILL NOT SOLD ON US? LET US CHANGE THAT!
GIVE US A CALL:
1-800-629-4329
---
We Have Product Experts Available to Answer All of Your Questions.
We Offer Free Shipping on Orders Over $199. We Also Ship World Wide.
We Are A Factory Authorized Retailer Offering Full Manufacturers Warranty.
We Offer Multiple Secure Payment Options. Affirm Financing is Also Available.
---
We strive to provide the best customer service and product support for our customers, so you can feel confident that you are purchasing the product that best suits your needs. We have Product Experts available to answer any questions and concerns you may have, and we will work with you to ensure that your order is correct every time. Our family-run business has always put our customers first, so when you buy from us you're family.