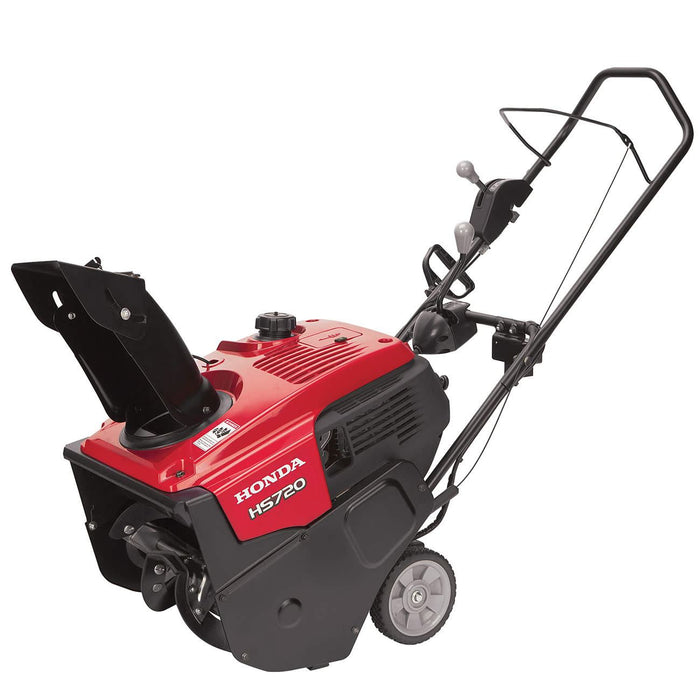 Honda HS720AS 190cc 20" 4-Cycle Electric Control Snow Blower - Reconditioned
---
Condition: Reconditioned
SKU: HS720AS-R
---
DISCLAIMER:
Our Honda Reconditioned items are products that have been used and may have minor cosmetic blemishes or replaced components. These items have been registered with Honda Power Equipment. Each unit has been thoroughly reviewed by a service technician, tested to 100% functionality and reboxed with all items you would normally receive with the unit such as original accessories and documentation.
Features
Powerful, easy to start, fuel efficient Honda engine
The Honda GC190 OHC engine offers plenty of power to churn through the snow. Starting is easy - even in cold weather.
Convenient 120-Volt electric start
Simply plug in an extension cord, start the snow blower, unplug, and go! Recoil start is also included as a back up.
4 stroke engine - No mixing gas and oil
No mixing, no two-stroke smoke and stink, lower emissions, and better fuel economy.
Easier snow removal with auger-assist drive
Honda uses a rugged, durable metal auger with replaceable rubber paddles to make quick work of residential snow removal. The auger assist drive helps move the HS720 when the rubber-edged auger contacts the surface. A gentle upward pressure on the handle starts forward motion.
High capacity snow removal - up to 1800 lb./min, throws snow up to 33 feet
Don't let its small size fool you. The HS720 has the snow-clearing power of a snow blower twice its size. Just like you'd expect from a Honda.
Convenient and simple Snow Director chute control
A conveniently located remote chute control determines the direction of snow discharge. The deflector can be adjusted from left to right 204 degrees.
Easy to adjust distance of snow discharge
Just move the Snow Director control up and down to adjust the distance of snow discharge.
Heavy duty metal auger housing - stands up to harsh conditions
Reliable, rugged construction featuring a bearing supported auger. The heavy duty designs offers dependable performance through demanding conditions.
Large 20 wide clearing width, 12 high
Handles large snow falls with power and ease
Large wheels for easy transport
Easy transport to and from storage makes the job easier.
Operator friendly controls with large on off switch
Managing your snow removal is simple with easy to access controls. The ignition switch, manual choke, starter grip and fuel cap are conveniently located for easy access. The starter grip is extra large to accommodate gloves or mittens. The access panel allows easy and safe operation, even with gloves on.
Glove friendly, large fuel tank cap
The large fuel cap and fuel opening make it easy to re-fuel, even with gloves on. The unit has a fuel shut off valve for safe storage.
Easy to maintain
The HS720 is designed for ease of maintenance. Draining the engine oil and fuel are easy, saving time, frustration, and mess. The spark plug is very easy to access for replacement.
Light and maneuverable
Compact and convenient, the HS720 offers the performance of a larger snow blower with the benefits of a single stage unit.
Automatic decompression for easy starting
This system relieves compression in the engine during starting and then closes automatically to ensure full power after the engine starts.
What's in The Box
20-Inch 190cc 4-Cycle Electric Start Chute Control Snow Blower
Owner's Manual
Warranty
2-Year Limited Factory Warranty - Residential
3-Month Limited Factory Warranty - Commercial
30 Day Satisfaction Guaranteed
3
Specifications
| | |
| --- | --- |
| Sku | HS720AS |
| Brand | Honda |
| Engine | Honda GC190 |
| Displacement | 187cc |
| Starting System | Electric/Recoil |
| Fuel Capacity | 0.29 Gal. |
| Drive Mechanism | Manual, Auger-Assisted |
| Clutch Type | Auger |
| Stages | Single |
| Chute Turning Radius | 204-Degrees |
| Clearing Width | 20 in. |
| Clearing Height | 12 in. |
| Max. Discharge Distance | 33 ft. |
| Max. Discharge Capacity | 1,800 lb/min. |
| Length | 49.6 in. |
| Width | 20.9 in. |
| Height | 40.6 in. |
| Product Weight | 93 lbs. |
| Shipping Weight | 95 lbs. |
STILL NOT SOLD ON US? LET US CHANGE THAT!
GIVE US A CALL:
1-800-629-4329
---
We Have Product Experts Available to Answer All of Your Questions.
We Offer Free Shipping on Orders Over $199. We Also Ship World Wide.
We Are A Factory Authorized Retailer Offering Full Manufacturers Warranty.
We Offer Multiple Secure Payment Options. Affirm Financing is Also Available.
---
We strive to provide the best customer service and product support for our customers, so you can feel confident that you are purchasing the product that best suits your needs. We have Product Experts available to answer any questions and concerns you may have, and we will work with you to ensure that your order is correct every time. Our family-run business has always put our customers first, so when you buy from us you're family.